GELC Winter 4v4 Lacrosse League Announced
---
---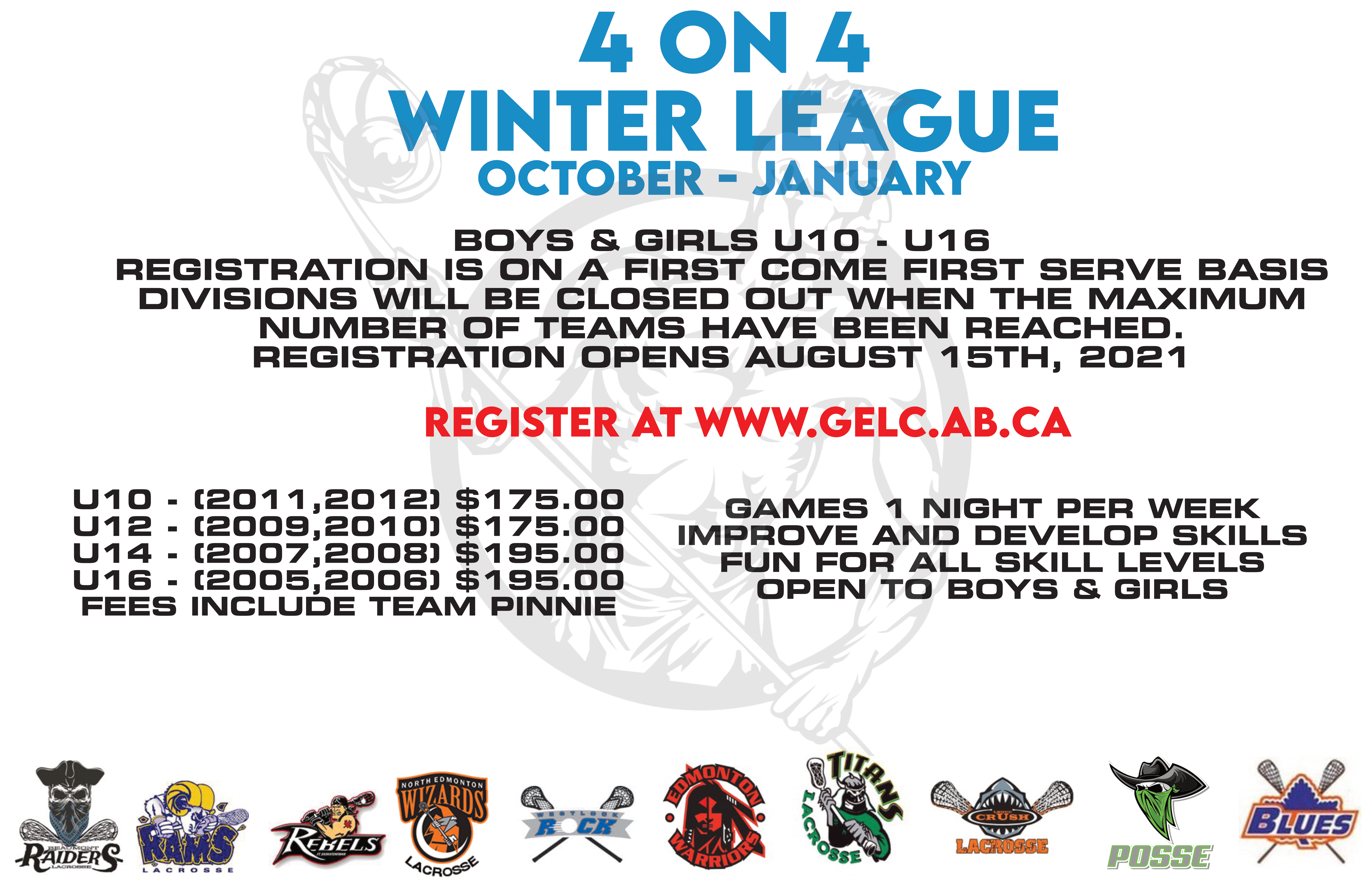 ---
The Posse is pleased to share the news of the GELC 4v4 Winter league beginning in October. This is the only organized programming that we will be running until 2022, so please read the details on the attached poster, get your friends together and sign up today!
FAQs:
Who can participate?
Children from 6u thru to 16u, experience does not matter we have opportunities for new players and returning players.
6u and 8u we will run a development program. For 10u thru 16u we are hopeful that we can run 4 to 6 team leagues.
Both boys and girls may register and participate. We are hopeful that enough girls will register than we can create separate programming for them.
d. If your player did not register in the 2021 Box Lacrosse Season you will be required to pay a$48.25 ALA registration fee in addition to the GELC league fees.
What is 4x4 lacrosse?
4x4 lacrosse is a developmental opportunity to have fun first and foremost, as well as playing with new friends from across the GELC.
It's an adaptation of existing box lacrosse but teams have fewer numbers (9 to 12 members maximum). It is sanctioned by the ALA and the rules are in accordance with the 4x4 regulations of the Alberta Lacrosse Association.
Location?
Currently we have floor time confirmed in Beaumont, and Leduc, with possibilities of floor time in the Edmonton Soccer Centers and in Spruce Grove, possibly Servus Place. Floor time is on Saturdays and Sundays.
What does the anticipated schedule look like?
For the developmental program, we will be on the floor once per week for 1.5 hours a week for 14 weeks.
For the divisions with games, we will be on the floor for a twelve-game season.
No programming for games on November 13,14th and over the Christmas break.
The start date is October 4th and we will run thru to January 30th.
Goalies
All goalies participating will be provided with a goalie jersey and will need to borrow goalie equipment from their home club.
We are hopeful of having one goalie per team.
Goalies will be allowed to affiliate to a team in a higher division as required.
Coaches:
The GELC is looking for qualified coaches to coach teams in this program. Please contact the GELC office at edmlax@telus.net if your interested in helping with this season.
Friend Requests:
Reciprocating friend requests will be considered. Both players must indicate on the registration form that they wish to play on the same team as their friend.
One reciprocating request per child.
What equipment does the participant need to participate.
a. Developmental lacrosse u6 u8 requires, gloves, sticks and helmets.
b. For 10u thru 16u games full equipment is required.
http://gelc.ab.ca/content/equipment
Cost:
The development program costs $140.00 which includes 14 floor sessions and a GELC Pinnie. (Please note for anyone not already registered there is an additional 48.25 fee for Alberta Lacrosse Association Membership.
For the league u10 to u16, which will include 12 games and a GELC Pinney, the cost will be$175.00 for u10 and u12. For u14 and u16 the cost is $190.00,
(please note for anyone not already registered in 2021 there is an additional$48.25 fee for Alberta Lacrosse Association Membership)
All payment made via e-transfer unless approved by the GELC office at edmlax@telus.net
Register at:
http://gelc.rampregistrations.com/